By Alisha Fogden, courtesy of The Stock Journal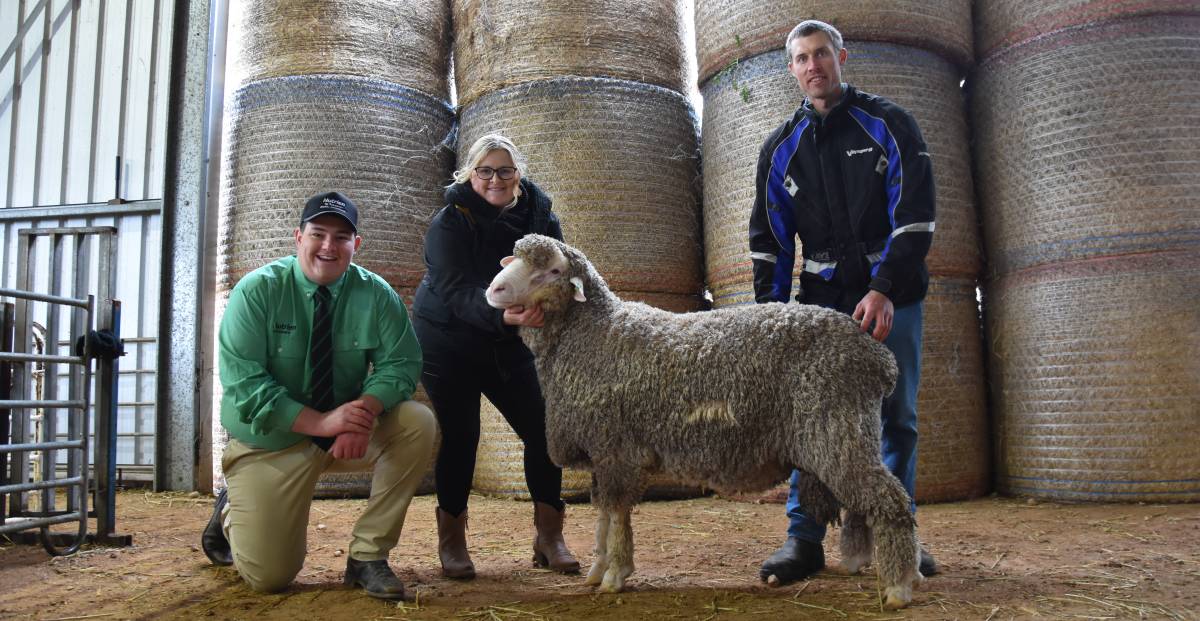 Nutrien Keller Livestock's James McInally with Kamora Park Poll Merino stud's Katelyn Boughen and $7000 top price ram buyer Tim Graetz, Ashrose stud, Mundulla.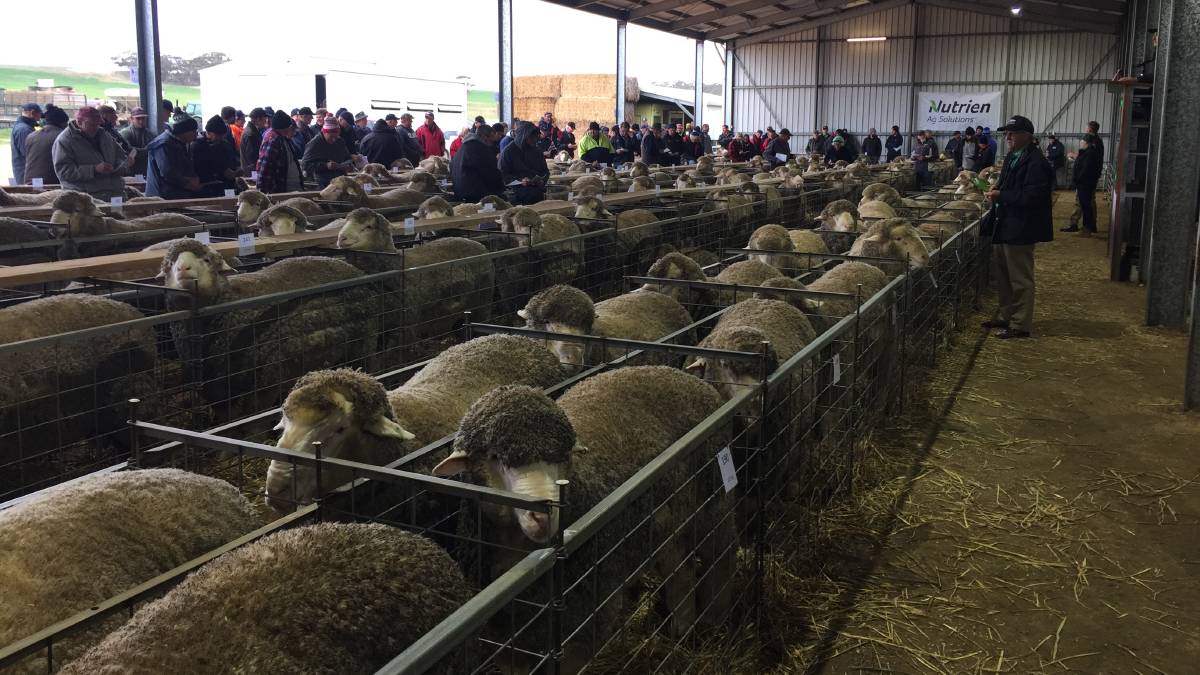 There was a big crowd and 52 buyers registered for the Kamora Park ram sale on Friday.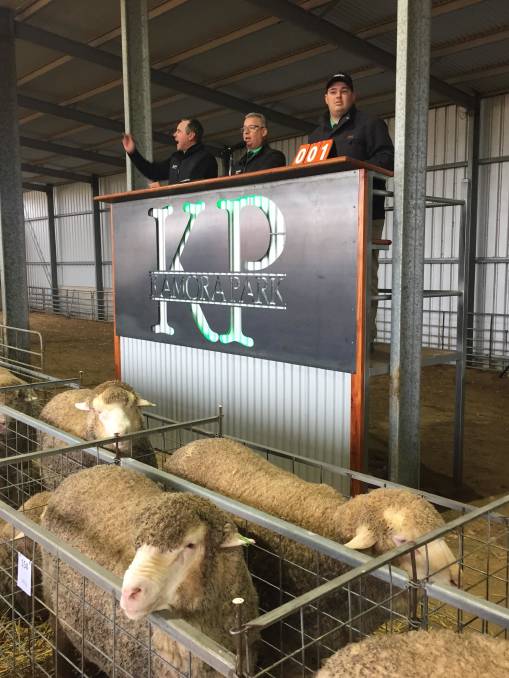 The new auctioneers rostrum being used for the first time at Kamora Park. Nutrien stud stock's Richard Miller and Gordon Wood shared the auctioneer duties, while James McInally assisted.
STRONG stud interest and a number of volume buyers helped underpin the Kamora Park Poll Merino ram sale on Friday at Sandalwood, resulting in a sale average increase of nearly $330.
There were 52 buyers registered for the sale, including interstate interest from NSW, Vic and Qld, with at least 40 going home with rams.
Overall, Colin, Julie, Wade and Katelyn Boughen sold 187 rams from 200 offered to $7000, averaging $2351 - a $328 increase on the 2019 sale.
The top price ram was bought by new client Tim Graetz, Ashrose stud, Mundulla, one of two he took home for the day both sired by Gunallo 295 - a ram that sold for $60,000 in 2018, which Kamora Park had a semen share of.
"I had been really impressed with the line after seeing Kamora Park's display at the South East Merino Field Day in Keith," he said.
"They had elite wool on them, and the top ram was also very structurally correct in the body."
Mr Graetz said both purchases, the other bought at $4200, would go into the stud to breed rams from.
The top ram at lot 74 weighed 117 kilograms, with an eye muscle depth of 41 millimetres and 9mm fat depth which were taken at 10-11 months of age.
It cut an incredible 9.43 kilograms of 19-micron wool at six months wool growth, measuring 2.8 standard deviation, 15.7 coefficient of variation and 99.8 per cent comfort factor.
The sale's second-highest price ram at $5800 was bought by AWP MacAllan, Red Creek, who took home five rams in total averaging $4560.
The top ram at lot 14 was sired by Seymour Park 908 - a ram that sold for $25,000 in 2015.
It weighed 128kg and cut 8.44kg of 20.2M wool at six months wool growth, measuring 2.7SD, 13.4CV and 100pc CF.
At the stud's March carcase scans it had a 38.5EMD and 5.5mm fat.
John and Paul Wegner, Karoonda, again returned to the sale to buy in bulk, taking home 25 rams averaging $2400.
It has been a steady increase in purchase price for the brothers, who bought 25 averaging $2324 at last year's sale, and 25 averaging $2148 in 2018.
Their highest price purchase at $4200 came midway through the sale at lot 118 - a Kamora Park-sired ram weighing 122kg, with 43.5EMD and 9mm fat, cutting 7.75kg of 18.8M wool, measuring 2.6SD, 13.8CV and 99.7pc CF.
Buying all the way from Qld through Nutrien agent Alistair Keller, was another first-time client JA Dries, St George, who was chasing "dual purpose, heavy-cutters". They will send four rams north, averaging $2100.
Other big volume buyers were return client BT&E Ling, Kingston SE, with 13 rams to $4400, averaging $2808; Marcollat Pastoral, Marcollat, with 10 rams to $4000, averaging $2610; and Malleeview, Galga, with 14 rams averaging $914.
Malleeview bought another six rams in the mini auction, which was held after the main sale, where 14 rams of 30 offered sold to $1500, averaging $721.
Nutrien and Keller Livestock conducted the sale, with Gordon Wood and Richard Miller sharing auctioneer duties.